Thursday Quotables is a meme created by Lisa@bookshelffantasies, who also created this wonderful Book Blog Meme Directory, the place where I found most of the memes I take part in! You should definitely check it out!
---
This week I'll have to choose quotes from Bag of Bones again, because I didn't manage to finish it 'such a failure' 'guys, it's got 660 pages'. Without further ado, here are my favourite quotes this week.
Goodreas Synopsis
Four years after the sudden death of his wife, forty-year-old bestselling novelist Mike Noonan is still grieving. Unable to write, and plagued by vivid nightmares set at the western Maine summerhouse he calls Sara Laughs, Mike reluctantly returns to the lakeside getaway. There, he finds his beloved Yankee town held in the grip of a powerful millionaire, Max Devore, whose vindictive purpose is to take his three-year-old granddaughter, Kyra, away from her widowed young mother, Mattie. As Mike is drawn into Mattie and Kyra's struggle, as he falls in love with both of them, he is also drawn into the mystery of Sara Laughs, now the site of ghostly visitations and escalating terrors. What are the forces that have been unleashed here—and what do they want of Mike Noonan?
I'm a lucky girl, don't you think? First I marry the son on an extremely rich man, and after he dies, I fall under the protective wing of another rich guy. Next I'll probably move in with Donald Trump.
I'm not making this up. I swear. I almost dropped the book reading this. What would I have thought of it, if I had read this a couple of years ago? Probably nothing as I knew nothing of Trump before the USA elections.
A shudder twisted through me at that. It was a strong one, as if someone were spinning a wire in my flesh. I didn't want her to notice it – what a way to start a summer day, by revolting a guy so badly that he stood there shaking and grimacing in front of you – so I raised my hand and waved. I tried to smile, as well. Hello there, lady standing out by the floating bar. Hello there, you old bag of bones, you scared the living shit out of me but it doesn't take much these days and I forgive you. How the fuck ya doin?
Up to this point the title has been mentioned at least 6 times and it doesn't feel overused at all. I love Mike Noonan's character a lot and the way he thinks as proven above.
---
Today is a very special day for my scottish Friend Shannon. Happy Birthday my dear, cheers to thee!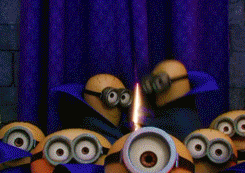 -Demi