Frustrations
Going home is something that makes me really happy, but it always involves some frustrations. I'm starting with them so that I can focus on this week's events better. For the past 5 years (since I moved to Germany), I've been having this feeling that I'm missing on a lot of chances to: go to certain concerts, book events, trips and mostly a lot of birthdays. It wasn't really easy to fly back home every time there was something really important happening in my home town. Most of the events I wanted to go to were in the school time so it was impossible for me to go. Of course I'm not totally sad about it, because I had many chances that I took to do other great stuff (like school exchanges etc.), but the thought that I was living in two worlds and also in none was always there. Up to this point you might think it's not that bad, but there is more. Every time I go to Romania, which normally happens very spontaneous and at the most unfitted times, there are ALWAYS great stuff happening in Germany that I miss. Examples: my teachers LOVED to give extra work to do when I was gone, we had to do group projects for school, birthdays too (not as many as I missed in Romania) and this week I missed the most. There was a wedding where I was supposed to be one of the bridesmaid, students from my school organised a school party where all teachers were put in funny and difficult situations (it takes place every year and it's organised by the senior year), some of my friends organised a school play based on Germany's Next Top Model and of course my English teacher decided to give us A LOT of homework for this Tuesday. I'm curious if any of you ever experienced this, as I don't really know anyone that goes through the same "torment" as I. A piece of advice: think a lot before moving countries!
---
Why the trip?
If I had a choice, I wouldn't have went to Romania right now, but I had to go to sign in for the driving exam, which I had to do personally. I've been placed on the 23rd of August, so you can guess where I'll be this summer. Luckily the school won't start yet and I won't miss anything, but it's still somehow annoying to have to travel so often to Romania. On one side I'm happy to see the rest of my family and friends more often, but I'd like to visit some other places as well. Your next question might be, why I go to Romania for the driving school and not to a german driving school. Answer: I understand Romanian better (obviously) and it's cheaper.
Think positive
Now it's time to get to the point and tell what happened this week. The first few days included my uncle's birthday, a trip to the hair salon to dye my hair (again), a trip to the bookstore with my best friend –'books' "insert happy face" – and of course my trip to the police to sign in for the driving test.

Shutout to the best library in town, Carturesti Iasi! They had all the English books above and so many more for very little money (3.7 $/ 2.6£/ 3,3€/15 lei) and it was hard for me to walk out of the store without buying more. If you would understand Romanian you would notice I bought A Tale Of Two Cities twice; one for me and one for my English teacher. Of course I had to buy a book that's been on my TBR for months, but there were SO MANY to choose from and I ended up with the Red Queen.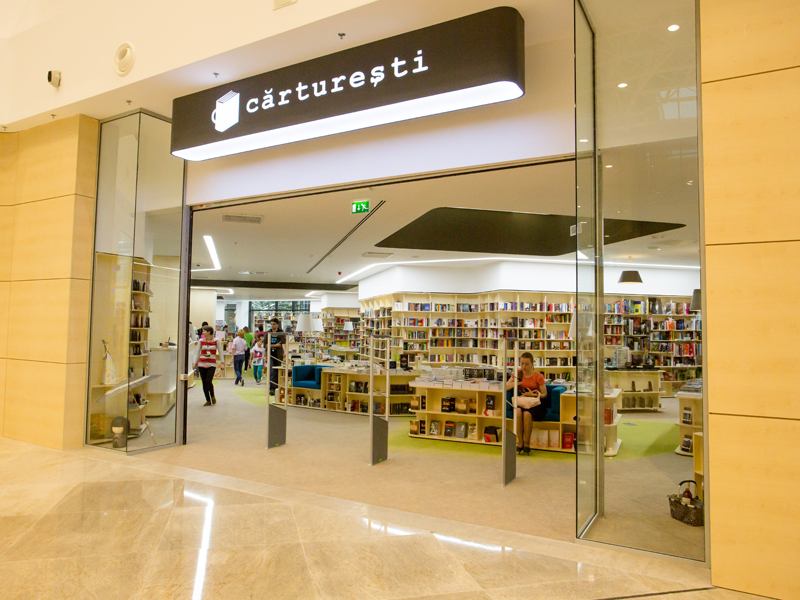 The highlight of the trip was a trip to a local thrift store on Wednesday. Let me tell you this was not a usual thrift store; it was filled with paintings, books, jewellery and a lot more beautiful antiquities. The moment I got in the owner came to me, greeted me, asked me a couple of questions (there were 2 other women inside) and offered to show us his collection of miniature books (Lilliput books as he called them). I've never seen anything like this in my life and this was just the begging.
I'm not going to bore you with all the details, but I'll tell you that I spent almost 3 hours in this shop, got the book bellow as a present from the owner and invitations to upcoming festivals in our town. The owner (whose name is the manly version on my name) made such a good impression on me and made me wish he was my grandfather. It might sound oddly, but he told so many stories and I could have listened to him for 10 more hours and wouldn't have gotten bored.

---
This is all from me for now. I'd like to thank everyone that followed me recently and of course those who are still following (since my last "Let's Have A Chat" my followers number doubled – wow! I'm overwhelmed and grateful to all of you!)
-Demi